I'm always hungry for new gaming experiences and I like tasting all genre of games I can find on the menu. Somewhere on the Web, I saw screenshots of Hell's Kitchen: The Game and it seemed to be an interesting dish, although I believe that the TV show has ingredients of bad quality and it's definitely overcooked.
Before eating the whole thing, I thought that it would be wise enough to take a small bite first, so I downloaded a trial version -call it an appetizer if you prefer. I also wanted to be prepared, so I took a soda from the fridge. I have a strong stomach, but with the famous chef Gordon Ramsay, you never know what you're going to "digest"!
After the title screen, you -the future chef and restaurant owner- come face to face with a good virtual version of the satan himself, who "opens" the door to the dining room and, of course, the kitchen. The option menu is nice, the graphics and sound during the game are good, but nothing really delicious. Let's go now to the main course, the gameplay. The challenge in Hell's Kitchen is to run successfully the kitchen and the dining room and win 5 stars for the restaurant after five weeks virtual time. At the end of every day, Gordon Ramsay awards you for your performance with 0 to 5 stars. No stars?

and you play the same day again. You win stars... You proceed to the next day. Day after day, your work in the kitchen and the dining room becomes more and more demanding. More clients to serve, more dishes to prepare, more ingredients at your disposal. Don't serve the dishes on time... God, save me! The clients get impatient and smoke comes out of the chef's ears. Keep them satisfied with your food and service and Gordon Ramsay stays cool. I'll be honest here! There is nothing irritating about the language that Gordon Ramsay uses during the game. You won't burst into tears, quit the game or anything like this. His lines are actually repetitive and harmless.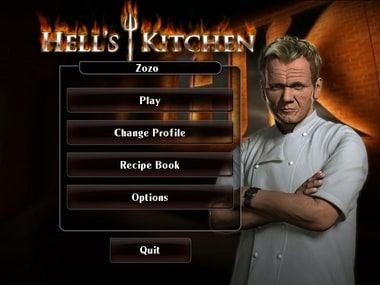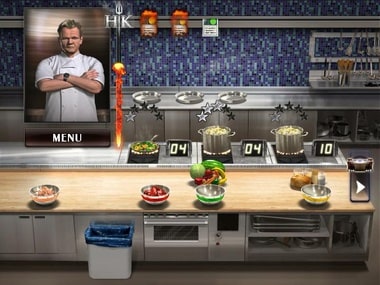 All these sound quite interesting and I must admit that Hell's Kitchen is a good time killer, but only for a while. This game has poor taste, similar to this of many many other freeware, sold or browser games. You read the description of the gameplay in the previous paragraph, right? Well, that's it! Nothing more! You read also about ingredients that you have at your disposal. They don't actually have names! The game indicates what you have to put in the pan. For example, I was preparing main courses and desserts and I had to add in all of them something that it was like a beef steak or something else that it was, without a doubt, a chicken (?!). You don't have to remember recipes. You don't have to know what ingredients are on your bench. You click on the ingredients to miraculously chop them. You click again to drag them in the pan or into the oven. You wait for a few minutes and... The dinner is ready! You serve the clients. And again, and again, and again. It's all about time management and definitely not about creativity in the kitchen. I'm glad that I didn't have to wash the dishes! After a second thought, maybe it would be an interesting addition to the gameplay.
Well, after all this, I rated this game with
5/10
. Bon appétit!
P.S. I forgot to write that the game offers us more than 35 recipes by the chef Gordon Ramsay. They look good, but they won't make me buy Hell's Kitchen: The Game. That's all folks! I'm hungry now and I'm going to order a pizza. I'll drink that soda after eating.